Packaging your Paper Photos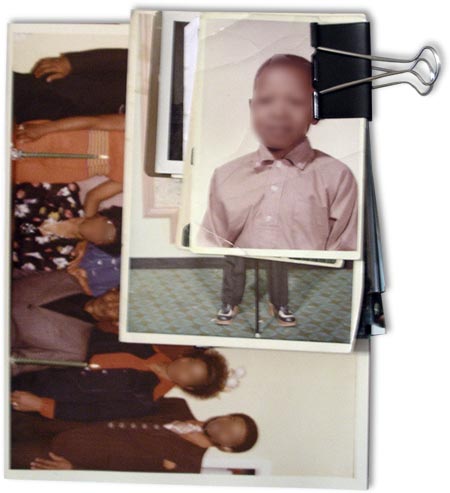 Be very careful about using rubber bands on your paper photos. You may put a bend in the photos and damage them. Most people separate the photos by putting them in envelopes that are big enough to hold them without a rubber band. Photos that are not flat may not scan well. Please don't pack them with shredded paper or anything that would cause problems during the scanning process.
Please Clean Your Paper Photos!!
We can't emphasize this enough: Go over your paper photos, front and back, with a very soft cloth before stacking them. We do NOT clean your paper photos before scanning. We see lots of photo scans that would look much better if the person had cleaned them off. Even light dust on the paper photo will reflect the scanner light back at the scan and result in "white spots" on the scan.
Sometimes, dust may come from glue that is used to fasten the photo to an album page. In these cases, you should brush the dried glue off the back of the photo, also. At our low prices, we cannot be responsible for dust on your scans.
Mixing Different Photograph Sizes Together
We NEED your photos in stacks and not individual envelopes. We need to be able to grab a handful of photos and scan them. We cannot be tediously picking through hundreds of envelopes unless you want to pay much more than our standard low pricing.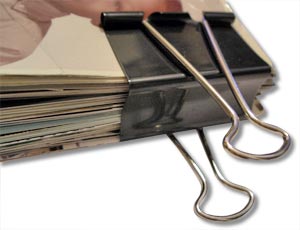 Here is a good way to make sure all your paper photos, especially if they are different sizes, stay together.
You can mix different size photos together in the same show. You do not have to separate the pictures according to size.
Go to your local business supply store and look for "Binder Clips." They come in various sizes and you can get some that can hold a lot of paper photos. Once the photos are clipped together, you can put them into an appropriately sized envelope for further protection.
Use Plastic Bags For Organizing Paper Photos
Make sure you NUMBER your stacks of photos, if a particular order is desired.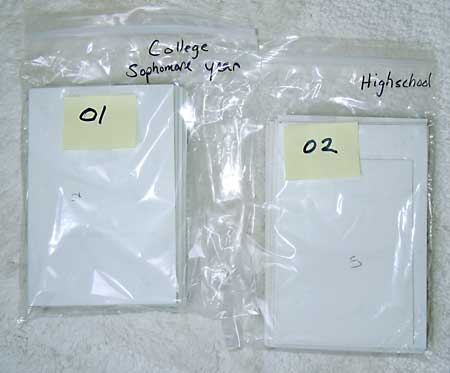 Number of Photos Per "Chapter" or "Show"
We recommend, for organizational purposes, that you do not have more than 100-150 photos per chapter or show. Your menu selections are just going to be much better if you have more chapters rather than less.
Numbering Paper Pictures
Each stack of photos should be labeled according to how you want the photos to appear in separate "shows" or "chapters". If you want 3 chapters then you should have 3 stacks of photos. If more than one stack will go into a chapter, number the stacks, for example, #3a, #3b, #3c. That way we know that all three stacks go in chapter #3.
NOTICE: Do NOT number your 500 photos from #1 to #500 if they are going into separate chapters. Each chapter of photo scans will start at #1 and go through to the last photo in the stack. Numbering will start all over again in the next chapter. Even if you do number the photos in each chapter, that does NOT mean that your numbering is going to match up with our numbering. ABSOLUTELY do NOT number your photos with a letter extention such as 45a or 45b. This will completely mess up the logical numbering from our system.
If you number the pictures on the back or do other writing on the back, do the marking in pencil and not ink. We had more than one customer who ruined a good part of their photo collection by marking with a permanent magic marker on the backs of the photos. On many of the photos, the ink offset onto the picture below. Please avoid this heartbreaking situation. Use pencil.