3D View-Master Reel Scanning
View-Master Reel Order Form
Click Here
(Please note that we will not scan any copyright protected View-Master Reels. These will include any commercial reels, travel reels or cartoon reels. Don't send them to us because we will not scan them under any circumstances. They have to be personal, family View-Master reels.)
If you have Personal, Non-Copyright protected View-Master Reels that you would like to be able to view on your TV or computer, we can convert your personal View-Master Reels to individual images
We will scan your 3D View-Master Reels at 4000ppi, enhance the images for you and make the disk for you. The images can be copied off the disk and put on your hard drive and you can print them out on your printer or you can take our disk to your local One Hour Photo and have them make prints for you or we can make the prints for you.
Because of the extra handling involved in scanning the 3D View-Master Reels, we have to charge more than our standard 35mm scanning rates.
We will pick the best image out of each pair and we will output your images to JPEG format, saved at a high resolution of ten. Each View-Master reel will be scanned into its own individual folder onto a disk.
Because we cannot automate the scanning process for the 3D View-Master reels, we have to charge more than our normal scanning fees. Each View-Master reel has seven pairs of films. We scan one out of each pair. Our charge is per reel regardless if you have missing films because we go through the process of scanning each film whether it is there or not.
Each reel scanned is subject to a flat fee of $10 regardless of how many films you need off the reel. There can be no bulk scanning price because of all the work involved. This is our bare minimum price.
Because these get magnified even more that regular slides, dust is going to show up even more if you do not clean them, both sides.
View-Master Reel Order Form
Click Here
Also note that, since these are very small films, we have to zoom our scanners in quite a bit. Any dust on the film is going to appear larger than if we were scanning a larger film. We encourage you to use a very soft cloth to go over the films before you send to us. While we do hit each reel with a soft puff of air before scanning, this is no guarantee that the dust will be removed. Films tend to develope a "stickiness" to them and dust does not just fall off. Because of our low price, we can't take the time to clean your films for you unless you pay us extra to do it. Films are also "dust magnets." Dust is such a problem that we would not guarantee any scans to be dust free, at any price. The best way to get a dust free scan would be to disassemble the reel and take the films out. Clean them with flim cleaner, put them on an oil base and scan on a drum scanner. This would probably cost you about $20 to $30 per film. That is per film, not per reel. We do not do drum scanning.
Our normal service is to trim off the rounded corners of the scan. If, by trimming the image down to remove the rounded corners we will lose important parts of the image, we will leave the rounded corners in. If we don't lose anything important, we will trim off the corners. We scan the individual films in "numbered" order. We scan starting at film #1and then scan the seven films. This will mean that the scans will be numbered 1, 2, 3, 4, 5, 6, 7. There are 7 pairs of films on the reel. We scan only one film of each pair and we do them in a certain order. If the slot for the pair that we are scanning is empty, then it does not get scanned. See the example below.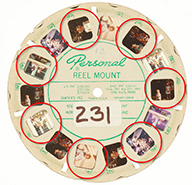 PRINTS from the Scans
There is an option on the order form for ordering prints. If you want 4x6" prints, probably because the films are more square, we would need to give a print with white on two sides in order to give more content within the print. That way nobody gets their head cropped off and nobody gets cropped out of the picture.
View-master reels were not originally marketed to children as they are today. The first reels were travel and scenic related. The View-master viewing system was invented by William Gruber. He put seven sets of images on a circular disk which was put into a special viewer. The sets of images were taken with special 3D cameras which took two pictures at the same time with two different lenses. The lenses were separated by about the distance between two eyes. When viewing these two images through the View-Master viewer it produces an amazing three dimensional image with a sense of depth. Sawyer's, a company that sold printed post cards, saw the beauty and marketability of the View-master system and soon View-master outsold the post cards. The View-Master patent has been owned by many different companies down through the years: GAF, View-Master International Group, Ideal Toy Company, View-Master Ideal Group, Tyco Toys, Mattel and most lately by Fisher-Price. Now the newer reels are mainly of cartoon characters and are marketed to children. More than a billion View-Master reels have been manufactured since the first
Pictures for this type of 3d Stereo viewer were taken with special 3d Stereo cameras like the one to the right. Film from this type of camera could be developed and then mounted in the special View-Master Reels and then viewed in the View-Master Viewer.
It is possible for a person to take their own personal 3d Stereo pictures by taking one picture and then shifting the camera about 2 inches to the left or right and taking another picture. This is replicating what the human eyes see from the left and the right eyes. The two pictures would then have to be mounted in 3d slide holders.