Use Remote Assistance to let someone fix your PC
Windows Remote Assistance lets someone you trust take over your PC and fix a problem from wherever they are.
Go to the Windows search box and enter remote assistance, then select Allow Remote Assistance invitations to be sent from this computer.
Select the Allow Remote Assistance connections to this computer check box, and then select OK.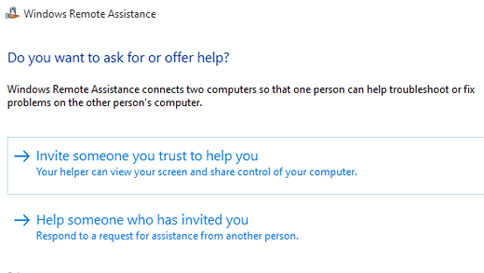 Now, search for remote assistance again and select Invite someone to connect to your PC and help you, or offer to help someone else.
Select Invite someone you trust to help you. If you've never used Easy Connect, select Use Easy Connect.
If you've used Easy Connect before, select your helper's contact name. To invite someone who isn't on your contact list, select Invite someone to help you.
Follow the instructions.