3D Stereo Slides Made Into Prints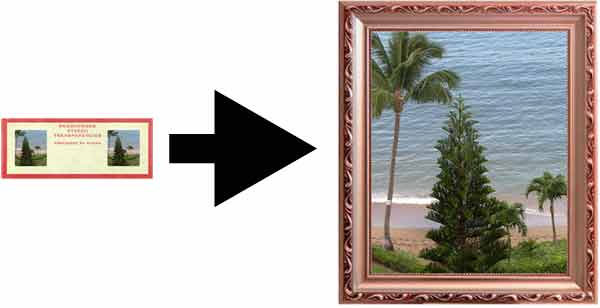 We can make prints from your 3d Stereo slides. We digitize the slides first and then we make prints at your direction from the digital images. We will crop the images to the size print that you desire trying to make sure that the most important parts fo the stereo slides are preserved. You tell us what size prints you need and we will crop the image accordingly. If you want different size prints made from the same slide, we will do precise cropping to duplicate images for each print size.
Quality of prints will depend on the quality of the 3d Stereo slides that you send us. We will do what we can to make sure your slide scans have color restored if the films have faded.
Please NOTE: We are sorry but, we will NOT scan both sides of the slide. This is not in our workflow and we cannot change our workflow. Please don't ask. The answer is no. Sorry.

Where you send your slides does make a difference. Don't make a big mistake.
If you are interested in seeing MANY more slide scanning comparisons from Legacy Box, Costco or Walgreens, like the above, Click Here.