You want "Sale" prices? You can get them every day of the year at Legacy Box.
We have heard a rumor that "Legacy Box" has a whole department assigned to figure out new schemes to make people think they are getting something on SALE so they will prepay their order before they even send it in.
They say their "SALES" are for a limited time so that you will pull the trigger and pay for your order but, if you wait, there is ALWAYS a SALE. If you miss a sale today, wait until tomorrow because the sale might even be better.
What happens when 4 different scanning companies are tested by sending the very same slides to each of them and then comparing the final results? Click Here.
Take a look. YOU WILL BE SHOCKED. Five pages of comparisons.
"type="video/mp4">
If you are interested in seeing MANY more slide scanning comparisons with each company scanning the very same slides like the above, Click Here.
My, oh my.
Need a "Sale"? Legacy Box marks their "regular" prices up unreasonably high and then they can have a make believe "SALE" every day of the year.
Want just a regular price and not a sale? Not going to happen whether you choose to pay "full price" or not because at Legacy Box, you never pay full price even if you want to. Why? Because Legacy Box knows that people are "suckers for sales" and they will give you that SALE. Based on our tests, you probably will not get the scanning quality you should expect, but you will get that SALE.
Legacy Box's Current SALE PRICES. Hurry and don't miss them. But, if you do miss today's sale, don't worry because they will have another sale tomorrow. The whole point is to get you to panic into placing an order so you don't miss their fake "SALE".
2022 April,
Mother's Day Pre-Sale.
Hurry and don't miss it. Send your order in without shopping around or you might miss their "60% OFF SALE" for Mother's Day.
If you want the 60% off sale price you have to let them "harvest" your email address. If not, and you choose "No, I'll pay the full price" don't worry because EVERYONE GETS THE FAKE SALE PRICE. Nobody pays the fake regular price no matter what you do. The "SALE" is baked into their order form.
They want your email address so they can SPAM you with email offers every day.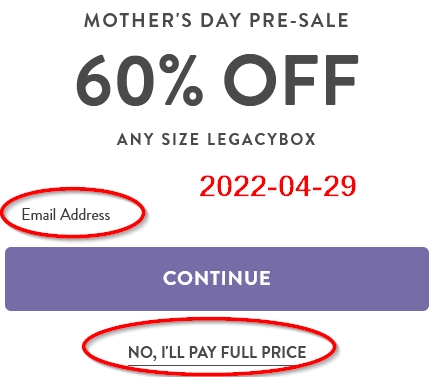 2022-05-27 the "Mom" sale is now 50%
Want a better sale? Wait and see if you can get 60% off for Father's Day.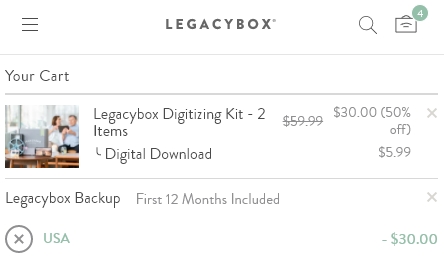 5/27/2022 Memorial Day Weekend
Memorial Day 65% off sale only applies to "tapes".
Everything else is 50% off and that is the typical every day "sale". If you are not getting 50% "off" and you cannot tell who is the "patsy" here, it is you. If you are not getting at least 50% off their high prices, wait and there will be another "sale". Some people get better "sales" than others.
6/9/2022 Father's Day
6/24/22 No particular sale. Just 50% off their already HIGH pricing.
6/30/22
AFFORDABLE SCANNING'S PRICE FOR THE SAME SERVICES
= $31.40 AND YOU GET SCANNING AT 4,000 PPI, OVERALL COLOR CORRECTION AND TURNAROUND IN ABOUT 2-3 WEEKS.
7/6/22 "Xmas In July Is Here!"
This is kind of hard to understand but, it looks like you have to purchase an "E-Deal" and then they send you the code and then you can go ahead and go online and place an order using the "E-Deal". Once you have swallowed the hook, then they reel you in for the order. You might want to check and see that this silly E-Deal doesn't expire on you and they keep the money. It is all a matter of continual pressure to place the order and pay up front.
Lock in video, photo and film digitizing with a Legacybox E-Deal. Includes Digital Download.
Once your order is placed, we'll e-mail you a voucher that includes a single-use code for you to enter when ordering your Legacybox kit.
If you've purchased this deal as a gift, you can share it by printing the voucher or forwarding it to whomever you purchased it for.
To redeem, simply visit Legacybox.com and select the kit that corresponds with the deal that was reserved. Then enter the code from the voucher and complete the order.
What is it?
Double your order for FREE!!
OR..... 50% OFF for FREE!!
Is there a differnece?
How stupid do they think you are?
VERY, VERY STUPID.
7/27/22 "Buy One Get One Sale"
All right. Finally a different sale and not one of those "50%" off sales. Oh, wait. Ya. It is a 50% off an already high price which they NEVER charge in the first place because nobody would pay it. Mark your prices up unreasonably high and then you have a lot of room to lower your prices for continual pretend "SALES"! Is there really a sucker born every minute? Forget P.T. Barnum and ask Legacy Box to find out. They say they have a million customers. I wonder how many of those million would be "happy" customers if they could see that they could have gotten much better slide scanning and pay less?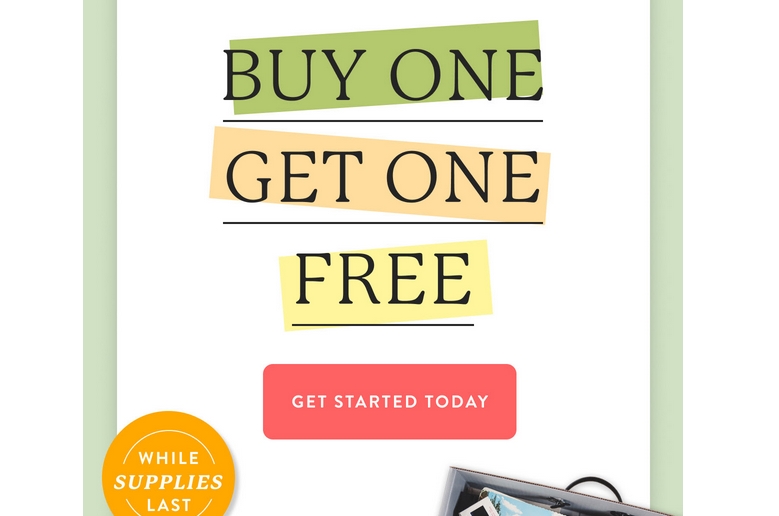 8/5/2022 Legacybox's "Last Chance Sale"
If you think this is your "Last Chance", we have a bridge we think you will like.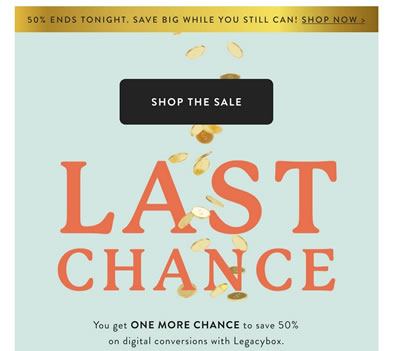 "Promotional value expires 90 days after purchase. Amount paid never expires. Online only. Valid only for purchase of initial Legacybox kit. Digital Download, Thumb Drive or Disc Set can be added while building your order for an additional fee. Shipping not included. Cannot be used toward invoices or additional charges. Cannot be combined with other promotional offers or promotional pricing. Voucher must be used in its entirety. Does not have residual value if full value is not used during redemption."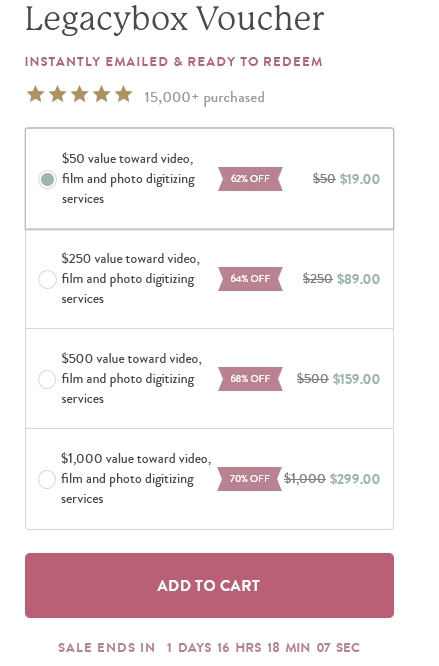 This is how they can give a "SALE!" every day. They mark up their prcies so high, nobody would pay them without a "SALE!!!!".
2022-08-24 OMG what a SALE!!
ONLY 48 HOURS!!! PANIC CITY! DONT' THINK. JUST DO IT.
Another Legacy Box SALE. Sign up now before the SALE ENDS. Hurry, hurry, rush, don't think, or you will MISS THIS never to be repeated sale (until next time, which could be minutes away) if you do NOT PAY UP FRONT RIGHT NOW!! WE PROMISE YOU THERE WILL NEVER BE ANOTHER SALE EXACTLY LIKE THIS SALE SO GET OUT YOUR CREDIT CARD AND SIGN UP BEFORE YOU CAN ACTUALLY THINK ABOUT SEEING IF THIS IS THE RIGHT THING TO DO.
This is Legacybox's tactic, some might call it a "Flim Flam", TO GET YOU TO PANIC INTO SIGNING UP FOR VERY HIGH PRICES AND VERY LOW QUALITY RESULTS BEFORE YOU CAN THINK ABOUT IT. WHO NEEDS TO THINK? JUST GET YOUR CREDIT CARD OUT AND SIGN UP before you miss out!
They must be credible if they spend a LOT on advertising. RIGHT? What could go wrong?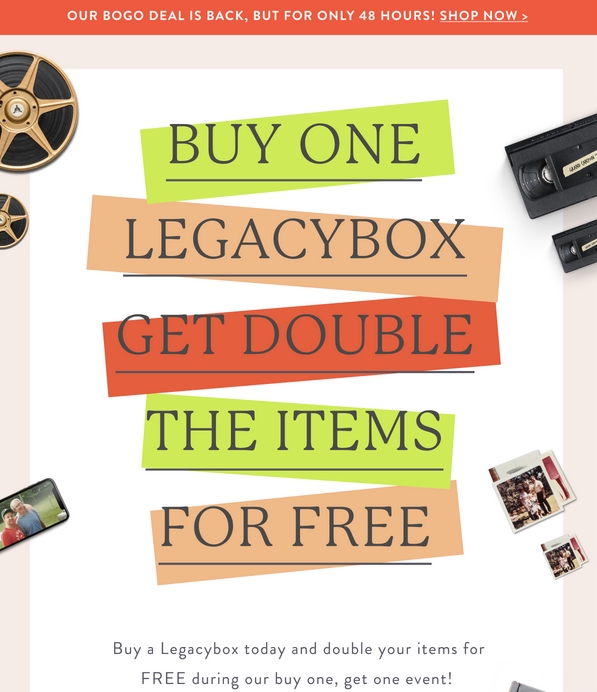 8/28/22 Legacy Box "Early Access to the Labor Day SALE!!!!!"
Apparently we are very special because we are previous "suckers" or should I say "customers" of Legacy Box, we get a special sale that the rest of you do NOT get. Don't worry, after they harvest the uninformed previous customers, you will get the same fake sale.
9/19/22 Don't worry because you are not going to miss a sale at Legacy Box even if you do not HURRY, HURRY, HURRY and sign up today without shopping around.
Just sign up for their emails and they will bombard you with fake "sales" off their never charged "regular" marked up very high prices.
Legacy box has a sale every day of the year. Take your time and make a wise choice. You have no idea what you are getting into until you get their final scans back and unless you at least do a free demo scan at Affordable Scanning, you are probably not going to know that you could have done better with your final images and with price as well.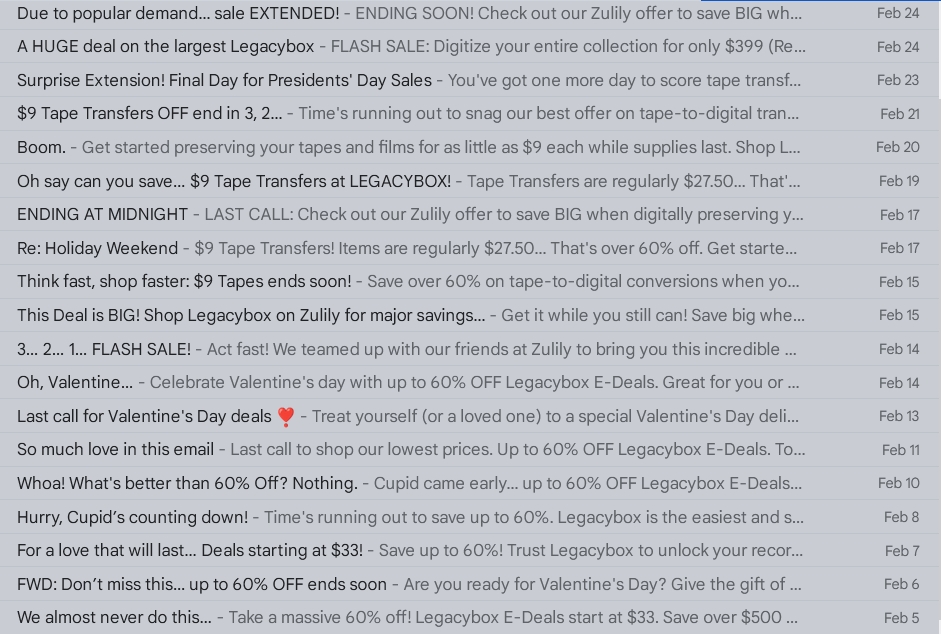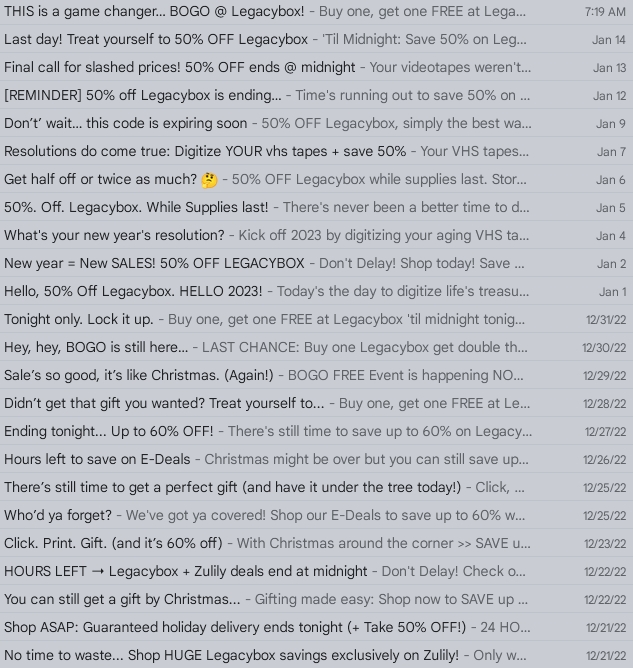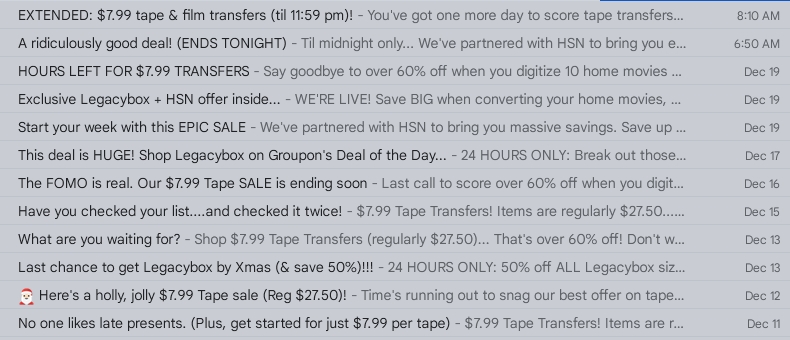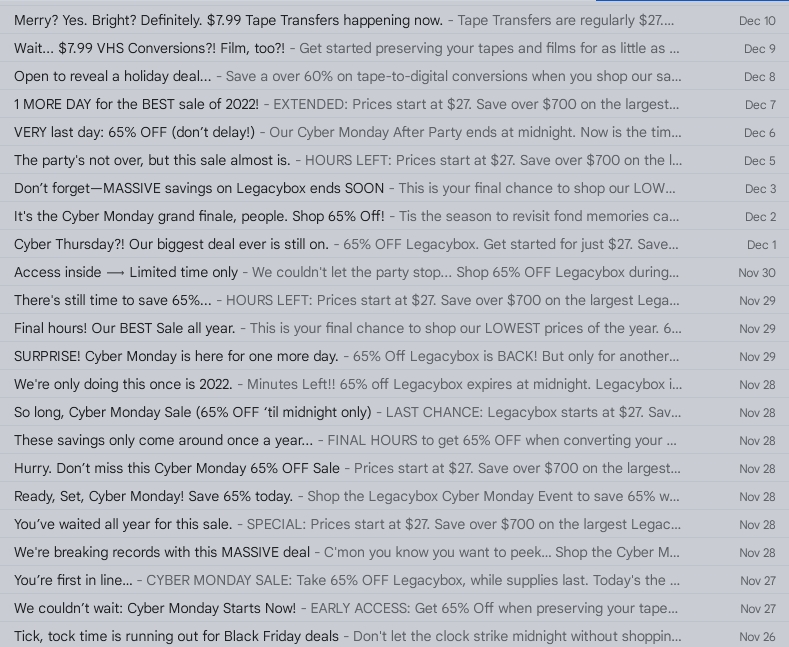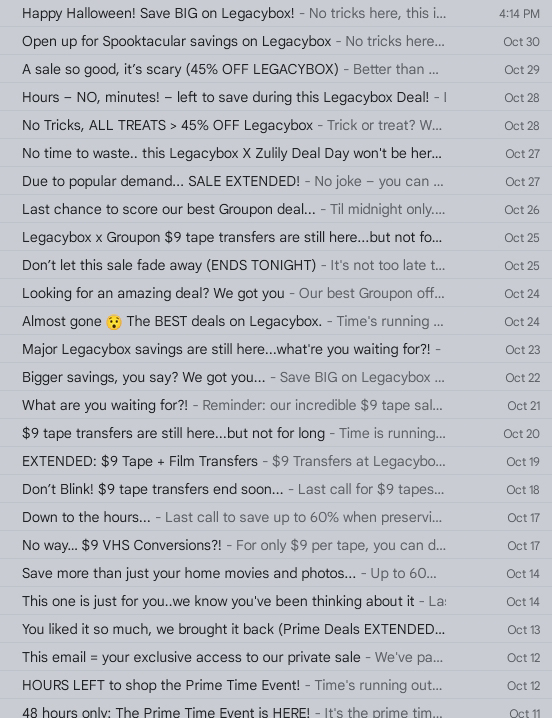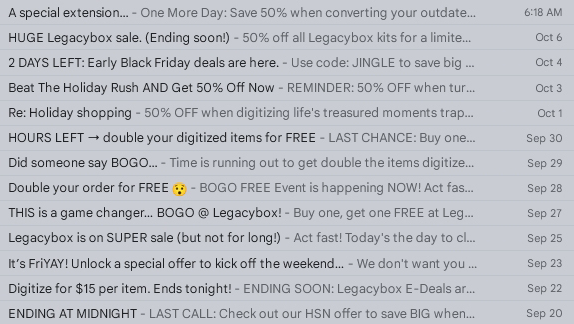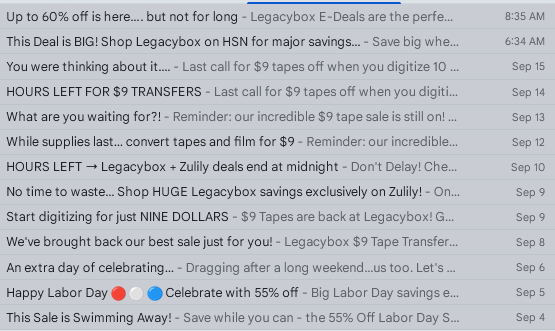 This is how they can give a "SALE!" every day. They mark their prices up so high, nobody would pay them without a "SALE!!!!". All Lemming line up here and don't miss a fake "sale".
Has anyone used Legacy Box's scanning service? Given the quality scanning service you could have gotten with us, are you happy with the results you got from Legacy? We would assume that you are NOT. If you have a website, we could uses some links to our website to warn people that they can get much better scanning results from Affordable Scanning Services LLC. Here is a good link to use: https://slides.pics/legacy-box-walgreens-costco-scanning-comparisons-01.htm