Legacy Box Scanning
Same slide scanned
at Legacy box.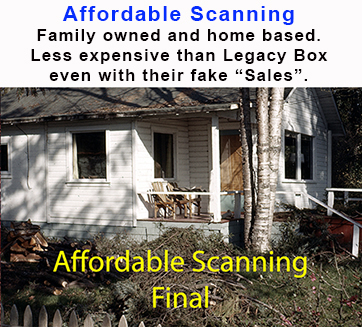 Same slide scanned
at Affordable Scanning.
Legacy Box is paying a LOT of money to advertise on TV and Radio, including heavy hitters like formerly: The Rush Limbaugh Show. Now they are also spending heavy money buying frequent ads on the Clay and Buck radio show. That doesn't mean you will be happy with their service, It only means that these heavy hitters are spending lots of money for the advertising buys and customers that do not do their research don't realize that, they could have had so much better results and with a lower price. Seems like nobody knows this. Legacy Box and others advertise that they have been endorsed by thus and such magazine or whatever but, did any of endorsements actually do some comparison tests with identical scanning items? Doesn't look like it to us. You can see one of our examples below:
If you are interested in seeing MANY more slide scanning comparisons for companies like Legacy Box, Costco & Walgreen's like the above, Click Here.
Legacybox and SouthTree are basically the same business. The Better Business Bureau of Chattanooga has reports on this company. Check out the reviews on the BBB for Southtree or Legacies which is the same company by clicking here.
In an email reply from Legacy box, Olivia M. says "Southtree and Legacy box are different branches of the same company. We share one location."
Compare our prices with Legacy Box prices.
We can't keep updating Legacy Box's current prices because we as a country are hit with heavy inflation and prices are going up everywhere. We bet that you won't have any problem comparing Legacy Box's current prices with ours. Ours are pretty simple.
Here is what we get from Legacy Box on 4/21/2022:
20 items and 25 slides each = 500 slides
20 items = $224
Digital download = $39.99
(You do want the images right?)
Shipping: $16.50 ( The "box" may be free but the "shipping" is not)
Total : $280.49 without tax. They will charge you tax.
This is WITH their 60% Off, sale. This one is Mother's Day but there is a SALE every day at Legacy Box even when you tell the popup that you would rather pay the regular price. You get that "sale" price regardless, so far. The percentage just changes. We have not see a regular price charged.
We charge $.39 per 35mm slide, scanned at 4,000ppi and 4x6" paper photos scanned at 600ppi. We do not include shipping because it is based on weight but, if you have about 500 slides in stacks, you can figure that you can ship to us for about $22.00 Priority Mail Large Flat Rate box and it would cost that to ship back.
So your total for the 500 slides would be $195.00 for scanning, $17.35 shipping to us, $17.35 from us = $229.70 total estimated. You save $50.79 and you get personalized service and your project does not get lost in a huge factory. You can call and talk to a human being almost immediately! We have excellent BBB reviews.
Go ahead and compare us with the BBB reviews for Southtree/Legacy Box/Kodak Digitizing Box (All the same company!)
Plus, with our service, you get expert Photoshop editing of each of your scans.
And, if you select it on the order form, you get a free DVD slide show disk with images stored on the disk and the high resolution images can easily be transferred to your computer.
Scanning RESOLUTION
Legacy Box scans slides at 2400 PPI.
Legacy Box scans paper photos at 300 PPI.
We scan slides at 4,000 ppi .
We scan Paper Photos at 600 PPI.
What Kind of Image Storage?
Legacy will give you some kind of disk with images on it and they say it will "play" on most TVs or computers with DVD ports but, they don't say if it is a movie disk. I suspect it is just a disk with images and maybe you can play it on your computer or TV. The CD/DVD disk costs $39.99.
They don't even give you your images for free. You have to pay for them even if you choose "Digital Download" at $39.99.
A thumb drive is also $39.99.
(Sure glad it is not all the way up to $40!! Oh my.)
And so, after you paid for all the scanning and shipping and now you have to pay for some way to get your images. You have to hand it to Legacy Box, they think of everything. "Oh, we didn't realize you actually wanted your scans after we finished the scanning."
We give you a FREE DVD Slide Show disk, if you select that option on the order form, AND your high resolution images are also STORED on that same disk and you can pull them off onto your computer. No Extra charge. You can also select just images on the free disk.
Demo Scans
Legacy Box does not do free demos.
Ten Free Demo Scans of your slides.
Free Boxes
Legacy Box will send you a cardboard box to ship and store your project in. You really don't think it is free do you? And, it is a cardboard shipping box, not a fancy "Legacy storage box" made out of wood and ivory carvings as you might picture. Also, keep in mind, when they send you this "free" shipping box with their shipping label on it, you are no longer the shipper, they are. If the box is lost in shipping, you can't even file a claim to trace the shipment. They are the shipper and not YOU. Be very careful about that and with anyone giving you a "free" shipping box and prepaid label.
The USPS will give you free Priority Mail boxes to ship in and they are really free. And you can schedule a free pickup at your door and they have free package tracking. Yes, you have to pay for shipping but, you are really paying for it with Legacy Box as well.
For the USPS Store, Click the link below:

https://store.usps.com/store/product/shipping-supplies/priority-mail-flat-rate-boxes-variety-pack-P_VARIETY_FRBV
Legacybox Trademark owned by AMB Media, LLC
---
We will individually enhance the color of faded slides & pictures, when possible. No extra charge. Each image is individually viewed, color assessed and adjusted, as much as possible, for pleasing color. We will create, at your direction, either a Data Disk with your images on it or a full fledged DVD slide show disk with the images also stored on it as well.
---
FREE PhotoShop Work includes:
Talented PhotoShop Artists
Overall Color Correction and Enhancement of each scan
Exposure Correction
Precision Cropping
Opening Shadows
Rotation for correct viewing
---
Compare Scanning Services before you send all your slides. Any company confident in the quality of their service will give you at least a few free scans so you can see their work.
We know you are comparing prices because, when we go shopping for something, we compare prices too. Make sure you are comparing apples to apples and not apples to oranges. Be sure you tack the Photoshop work onto our competitor's pricing and you will see what you can save by using our services. And don't forget to add our FREE full production DVD Slide show and FREE website, for six months, for you to view and your friends and relatives can view your image scans. And, don't forget to get your ten free 4,000 ppi sample scans to see the beautiful quality of our work when you compare us to our competition. We welcome the comparison and you will be glad you did!!
Don't make a mistake that you and your family will regret for a long, long time. You are not going to do this conversion twice.
---
Ten free 4,000 ppi sample slide or photo scans
Your Slides, 3D Stereo Slides and Photographs, digitized by our scanning service, can play as a DVD Slide Show, or play a Slide Show on a PC computer. Your images are also stored on the disk and can be pulled off onto your computer. Click here to get your ten free demo scans. Demo scans do not come on a disk. You download them from our private webpage.

Have you seen your slides lately? Probably NOT for a long time.
Let us digitize them for you and you can watch them on your TV and the images are also stored on the disk.
---